About The Show
Rich Natole's confident and likeable approach will quickly win over any audience. His repertoire of hundreds of celebrity vocal and singing impressions will impress young and old alike. Avid television and movie buffs will appreciate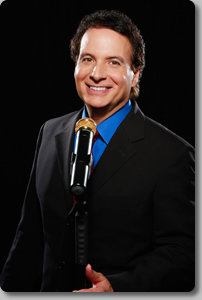 Rich's pinpoint accuracy of their favorite stars of yesterday and today. From Chris Rock to Larry the Cable Guy to Jeff Foxworthy to Eddie Murphy, Rich Natole does a multitude of contemporary voices. Political junkies will enjoy his equal opportunity approach to spoofing their favorite (or least favorite) politicians such as, Bernie Sanders and Donald Trump. Rich's rendition of The National Anthem - with every President from JFK to our current president is a huge crowd pleaser.
You won't have to stretch your imagination to pick up famous singers belting out their signature songs. From Johnny Mathis to Johnny Cash to Willie Nelson -- Rich Natole captures the voice and the essence of these great performers.
Rich Natole is an experienced emcee/host for special events, with hundreds of shows from awards banquets to corporate game shows.
Rich is the perfect choice - an accomplished entertainer that even the meeting planner or agent can sit back, relax, laugh and enjoy. Book him with 100% confidence.
Rich Natole on the Dennis Bono Show

Rich performs live on the nationally syndicated Dennis Bono Radio Show doing impressions of today's most popular politicians.
Comic Impressionist Rich Natole Performs on the National Television Show "Home & Family" on Hallmark






Show Samples
| | |
| --- | --- |
| | Wide range of celebrity voices such as, Clint Eastwood, Robert Wagner, and Jerry Seinfeld. |
| | |
| --- | --- |
| Original side-splitting comedy that is sure to entertain. | |
| | |
| --- | --- |
| | Hilarious singing impressions of some of today's most popular stars. |
| | |
| --- | --- |
| Rich Natole's clean comedy and contemporary impressions are the perfect choice for any group. | |
Merry Christmas Las Vegas


Good, Clean, Fun


Special Highlight
On the Vincent Schilling Radio Show Las Vegas Legend Wayne Newton says Rich Natole is a phenominal talent!